Blueberry U-pick is available from July 1 to August 31.
WELCOME!!!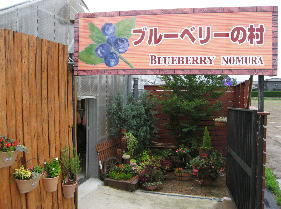 Welcome to Blueberry nomura!!! Our farm is filled with green and you can enjoy the atmosphere. Our special processed foods which use our blueberry lavishly , fresh fruits, and frozen fruits are available in the farm. Also, Cafe Blueberry offers delicious Deserts. You can enjoy U-Pick for 1,000yen/adult, 500yen/child. Come visit us for a special summer memory.
Deserts we offer at the cafe are all reasonable so please feel free to walk into the café. Why don't you forget the busy life and make your Self? It's good sometimes to contact with nature♪Please come to Kitanomachi, Fukuoka. Read more about desert's menu↓↓↓
Blueberry Soft Serve 500yen
Fresh Blueberry soft serve ice cream We process and mix up frozen blueberry and vanilla soft serve yogurt after we get every each order. Enjoy the texture of the blueberry.
Blueberry Shaved Ice 400yen
Enjoy our signature desert! Shaved Ice served with our original blueberrysauce which entirely has fresh blueberry.
Blueberry Snowcone 400yen
Refreshing yogurt flavored blueberry shake topped with vanilla ice cream. This is our popular!!!
Blueberry smoothies 400yen
An iced tea-based smoothie made with ripe blueberries.
Blueberry waffle with vanilla ice cream 500yen
The sweetness of waffles and blueberries is the best match.
Blueberry busse with vanilla ice cream 400yen
A busse filled with fruity jam and cream.
Blueberry dorayaki with vanilla ice cream 400yen
A special dessert filled with sweet and sour blueberry paste.
Blueberry cake and drink 500yen
Special sweets made with blueberries and a special set with a drink
Other drink menus are also available at the cafe.